Limited Quantity Available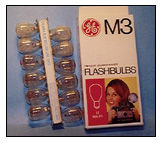 Wizard Devices has acquired a limited quantity of M-3, PH/5, Magic/Flash CUBES, and Flipflash/Flash Bar flashbulbs and is making them available as a safe substitution in special effects and training programs.
Flash bulbs are used to simulate:
Underwater and electrical explosions
Flash grenades
Startle Points in training
Gun and Bomb flash
Electrical shorts and electrocutions
Added effect to miniature explosions
Great triggered effect for training bomb techs
And more applications only limited by your imagination!
Price: M-3 Flash bulbs - $20.00/dozen
PH/5 bulbs - $24.00/dozen;
Magic/Flash CUBES - $9.00/3-pack;
Flipflash/Flash Bar - $9.00/ea.
Place your order today! There's no telling how long these flash bulbs are going to last.
WHEN THEY'RE GONE - THEY'RE GONE!